Welcome to the IMS Carbon Management, Reporting and Disclosure Resource Centre
SHAPING RESPONSIBLE BUSINESS
CDP Services 2020
Last year, over 50% of IMS clients achieved Leadership status for their climate disclosures.
TCFD Reporting
Guidance and support for reporting to Taskforce for Climate-related Financial Disclosure
framework and principles
Science Based Targets for emissions reduction
Setting and implementing science-based targets
Global Reporting Initiative
Reporting using GRI standards and frameworks
United Nations Sustainable Development Goals
Applying the UNSDGs to your business strategy
Future Fit Business Benchmark
Coming soon : Guidance and support for FFBB methodology
IMS Consulting are sustainability strategy, communication and engagement experts, with offices in the UK and France. We develop and deliver sustainability research, reporting and disclosure services for some of the world's leading responsible businesses.
Welcome to our Resource Centre
TCFD Taskforce for Climate-related Financial Disclosure
IMS Consulting's handy "Coffee Break Briefing" on Scenario Analysis is written for non-experts who want to learn more about the TCFD reporting requirements, and in particular how to develop and report different climate-related scenarios. This briefing is really useful to share with colleagues who want to understand TCFD in more detail but perhaps aren't ready for the full context that we provide in our White Paper. This Briefing includes an introduction to TCFD and an overview of the taskforce's recommendations, advice on how to go about reporting and an introduction to scenario analysis. Not only is this Briefing valuable to any company embarking upon TCFD reporting, the information on scenario planning and analysis is also entirely relevant to leading disclosure standards including CDP.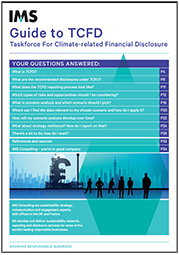 IMS Consulting provides comprehensive reporting and disclosure support packages for companies who are serious about TCFD compliance.
This 34 page whitepaper is your definitive Guide to TCFD Reporting. Researched and written by a sustainability consultant who is also a qualified chartered accountant and chartered tax advisor, this comprehensive, yet easy to understand, guide is complemented by a set of case studies and a shorter "Coffee Break Briefing" written for anyone who wants a quick introduction to Scenario Analysis. Our White Paper takes you through every aspect of TCFD reporting in a useful step-by-step approach. It covers TCFD recommendations and provides a valuable source of references to other publications and resources.
Use this set of Case Studies in conjunction with IMS Consulting's comprehensive Guide to TCFD Reporting (our whitepaper). We've selected six companies who are reporting to TCFD and provided a review of key aspects of each of their reports. It will help you to shape your thinking on how to report most effectively. Companies reviewed in the 28-page publication (researched and written by a sustainability consultant who is also a qualified chartered accountant and chartered tax advisor,) include: Vodafone, British Land, Citigroup, Unilever, Rio Tinto and AXA. For each case study we provide analysis of each company's approach and suggestions on how you can structure your own report to ensure that stakeholders can get maximum benefit.
SBT Science Based Targets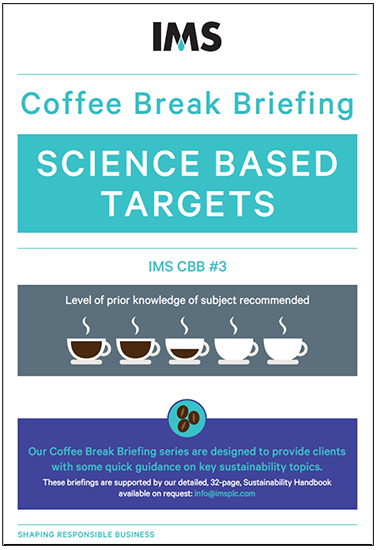 Developing and Validating your Science-Based Targets
IMS provides support developing targets, applying recognised emissions reduction models and getting your targets approved by the Science-Based Targets Initiative (SBTI).
Obtaining approval from the SBTI can be a complex and time-consuming process. The validation process is thorough and more often than not involves several rounds of communication with the SBTI and revision of targets, making the timescale for approval anywhere between 6 and 18 months. The support of external experts such as IMS Consulting can be invaluable throughout the process.
What if I don't want to have my targets validated?
A very good question.
Many companies that we work with are pressing ahead with a net zero ambition, implementation of an emissions reduction pathway or setting science-based emissions reduction targets that are not SBTI verified.
Why?
Several reasons.
Maybe you have a particular plan for reaching net zero, perhaps you don't want to wait for an approved methodology to be developed, or don't want to delay implementation of emissions reduction measures while your targets are submitted and approved by SBTI – remember it can take over 12 months.
Our Coffee Break Briefing on Science Based Targets explains, in simple terms, how to set about calculating and implementing science based emissions reduction targets.
UN Sustainable Development Goals
 3 September 2020 Mark Carney spearheads new taskforce to scale up carbon offsetting markets Former Bank of England Governor Mark Carney is spearheading an initiative to scale up voluntary carbon